by Ellen Gottesdiener –
The Product Canvas can help address a number of challenges as you transition to a product-centric organization. You may want to take a step back to rethink your product strategy. Perhaps you realize you're not organized for optimal product development and need to redesign your organization so its structure follows product. Or maybe you need to improve your product management practices.
For all these scenarios, defining your product is your starting point.
Product Canvas Part 1 covered the strategic and positioning benefits of the Product Canvas. Product Canvas Part 2 helps you define the essence of your product by defining its compositional requirements.
Using the same example company, Squeeky Kleen, a window cleaning business that currently services residential properties. Product Canvas Part 1 for Squeeky Kleen is as follows:
Source: EBG Consulting | The Product Canvas Part 1 for Squeeky Kleen
Product Canvas Part 2 for Squeeky Kleen is the topic of this blog looks like the following:
Source: EBG Consulting | The Product Canvas Part 2 for Squeeky Kleen
Filling Out Product Canvas Part 2
The sample Product Canvas Part 2 identifies a product's 7 Product Dimensions. [1]
Source: EBG Consulting | The Product Canvas Part 2 | Download the Product Canvas
As in Product Canvas Part 1, fill the overall product information first (product, your organization, date, and version):
Source: EBG Consulting | The Product Canvas Part 2 | Header row A. Product, B. Organization, C. Date, D. Version
7 Product Dimensions
The 7 Product Dimensions give you a holistic, comprehensive understanding of your product. No single dimension, by itself, is sufficient. You need to identify all seven to obtain a full understanding of your product, and product possibilities. [1]
Source: EBG Consulting, Inc. The 7 Product Dimensions
A unique color and image is used to visually identify each dimension. Download them from the visual language section of the Discover to Deliver resources site. Use visual models where possible to enhance and enliven conversations in Product Canvas and product discovery workshops. Models also help reviewers understand the essence of any given product dimension, quickly. I provide examples of useful visual models in the explanations below. Remember to keep the models for the Product Canvas coarse-grained, not detailed.
The columns of Product Canvas Part 2 has the following information:
Source: EBG Consulting | The Product Canvas Part 2 | Column row A. User, B. Interface, C. Action, D. Data, E. Control, F. Environment, G. Quality Attribute
To complete each block, follow these instructions:
A – User Dimension: Users value, benefit from, and directly interact with the product. Users trigger actions and can receive data from the results of actions. Include people, systems, and devices that interact with the product.
B – Interface Dimension: This represents the connections the product needs to interact with all its users, systems, and devices. Interface mechanisms can be human-computer (e.g., visual interface, touch, audio, or facial scan), system-to-system (via APIs), and messages (how the product interfaces with devices or systems). Visually represent interfaces using a context diagram or relationship map.
C – Action Dimension: This specifies what the product does for its users. Name the actions at a high-level with, for example, features, capabilities, or functional names ending in "ing" or "ment" (e.g., invoicing, fulfillment). Supplement the list with visual models such as an experience map, story map, business process diagram, value stream map, dependency graph, service blueprint, or capability map. You can also use text-based scenarios or jobs-to-done for the Action dimension.
D – Data Dimension: This represents the persistent data the product stores and uses. This includes data needed by actions and which is sent and received via product interfaces. List them using domain nouns (e.g., data entities such as Customer, Payment, or Property). Better still, visually communicate the Data dimension with a conceptual data model. Important lifecycle changes of important data entities can be visualized with a state diagram.
E – Control Dimension: Identify the policies, regulations, and business rules that the product must enforce. Controls originate from the business itself, from external sources such as regulatory bodies, or both. Include controls that are enforced in the product via software or hardware configuration, manually through business processes, or both.
F -Environment Dimension: Clarify the product's technology platforms (hardware and software) and, if it is a physical product, its physical properties.*
Source: EBG Consulting: Metamodel of The Environment Dimension [1]
G – Quality Attribute Dimension: define the characteristics that contribute to the product's operation (e.g., availability, usability, and security) and development (e.g., efficiency, portability, and testability). *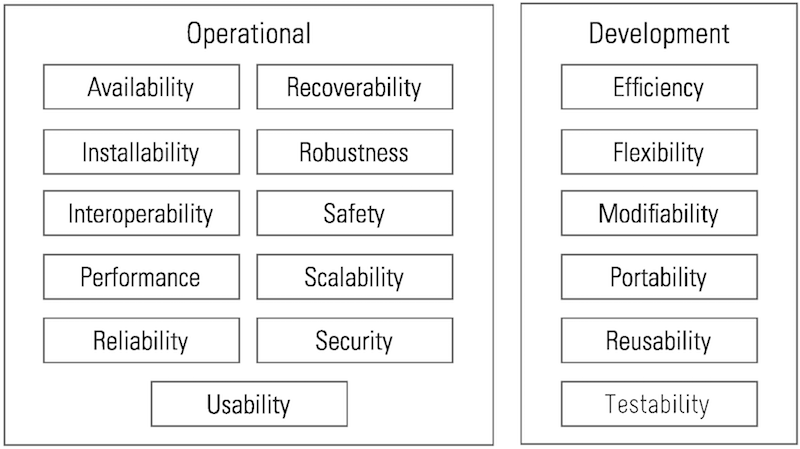 Source: EBG Consulting: Metamodel of Quality Attribute Dimension [1]
Tips and Techniques to Create Product Canvas Part 2
Because the Product Canvas is a tool to build shared understanding, the best approach for building the Product Canvas Part 2 is in facilitated workshops with customer, business, and technology representatives. As with Product Canvas Part 1, always prepare before your collaborative Product Canvas session (a.k.a. facilitated workshop). Consider creating draft models for some of the dimensions in mini-workshops with a subset of participants prior to the larger workshop.
You can work on both canvases together or split the work into separate sessions. If there is a diversity of opinion on what your product is, I recommend to start creating Product Canvas Part 2 to gain agreement on the gist of the product. This is because it is difficult to tackle the higher level blocks in Product Canvas Part 1 without shared agreement on what the product does, for whom, and how. Product Canvas Part 2 helps you do just that.
Why the Product Canvas Is Necessary
The purpose of the Product Canvas is to align product managers, product owners, product development teams, and associated organizations with a shared understanding of their product. Feed your product strategy and tactics with it. Use it to onboard new people, set content for product planning and discovery, and as a tool for shifting toward becoming a product-focused and customer-centric organization.
This is what I find most amazing about the Product Canvas:
The collaborative process used to create and maintain the Product Canvas is its most valuable benefit.
Download the Product Canvas here. Please share your experiences, comments, and suggestions by emailing me at ellen@ebgconsulting.com.
References
Gottesdiener, Ellen and Mary Gorman. Discover to Deliver: Agile Product Planning and Analysis. EBG Consulting. 2015. http://www.discovertodeliver.com/download.php.
Kim, Chan W and Renée Mauborgne. Blue Ocean Shift: Beyond Competing – Proven Steps to Inspire Confidence and Size New Growth. 2017. New York: Hachette Books, 2017.
The full version Product Canvas Part 2, which includes more tips, is posted on EBG's Blog.

Ellen Gottesdiener is a Product Coach and CEO of EBG Consulting, focused on helping product and development communities produce valuable outcomes through product agility.
Ellen is known in the agile community as an instigator and innovator for collaborative practices for agile product discovery and using skilled facilitation to enable healthy teamwork and strong organizations.
She is the author of three books on product discovery and requirements, frequent speaker, and works with clients globally. In her spare time, she is Producer of Boston's Agile Product Open community and Director of Agile Alliance's Agile Product Management initiative. You can connect digitally with Ellen via her Blog | Twitter | Newsletter | LinkedIn | Email